Growing up, I always heard my classmates whose parents took them on winter ski trips talking about Mammoth Mountain. I wasn't a skier back then and although I dabble these days, it's far from my favorite winter activity. As an adult, I've been lucky enough to discover that Mammoth Lakes is so much more than just a ski mountain.
This unique part of California is full of dramatic lakes framed by gorgeous mountains, numerous hot springs, and magical winter landscapes perfect for snowshoeing in. These are some of the best things to do in Mammoth Lakes in the winter:
12. Hot Springs
As a bona fide hot spring enthusiast, the wealth of hot springs is what initially inspired me to take a winter trip to Mammoth. It's hard to beat the beauty of the snow while watching it from a natural hot tub in the middle of nowhere. My favorite springs are 'primitive' meaning natural, free of charge, and HOT. The three springs off of Benton Crossing Road just south of the town of Mammoth Lakes all fit the bill.
Since each of these Springs is located down a dirt road, in the winter months the roads are closed and you'll have to hike or snowshoe in (bring snowshoes if it has snowed recently as it's less likely to be packed down). They're all accessible from the same general roadside parking at about a mile's walk down a mostly flat trail. In the summer, it's an easy drive.
Don't assume the hike means people will be swayed from going, though! If you want any chance of getting these to yourself, go at sunrise (and you might still share, but sharing is caring).
Willy's Hot Spring: Pictured above, the famous heart-shaped pool had me intrigued. The temperature is perfect, and if you get there with others around, there are a couple of other springs in the area that are equally warm and lovely. This is about a mile's hike from the road down a flat trail.
Hilltop Hot Spring: The closest to the road, this is one of the more popular springs in the winter months since it's the shortest walk.
Crab Cooker Hot Spring: With the best view of the mountains, this pool is about a mile from the roadside parking in the opposite direction of Willy's and is pleasantly hot.
While I'm not out to share any super secret springs, these are all easily found on Google maps and are no secret, so after a quick search you'll be in business.
11. Snow Shoe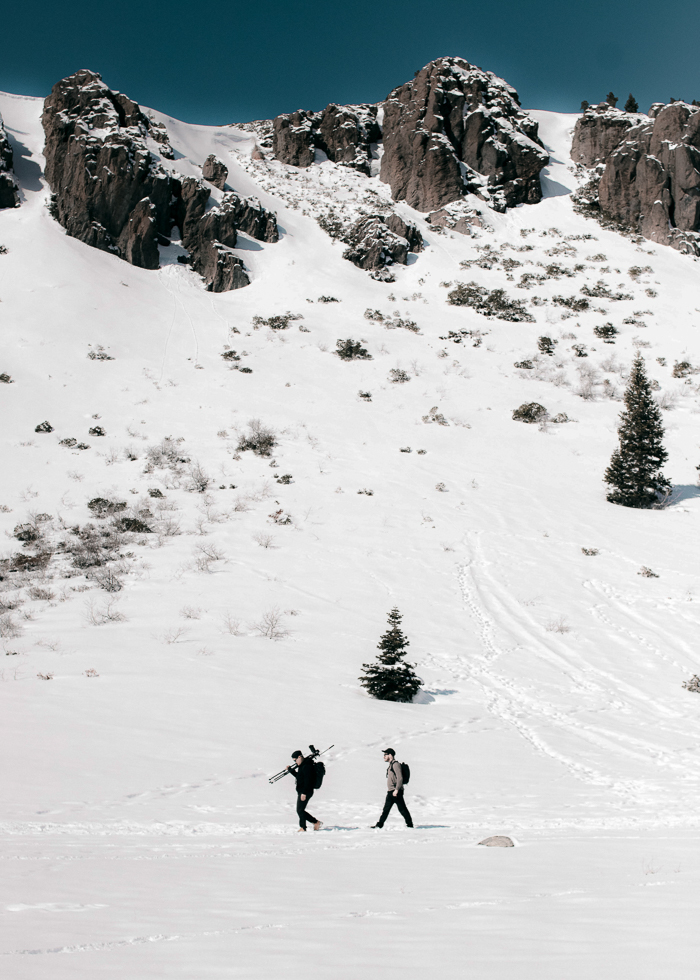 Speaking of snow-shoeing, there's no shortage of opportunity in the Mammoth area. One of the best is the Minaret Vista, a favorite spot to watch the sunset and stargaze. This hike is only about 4 miles round trip from the MMSA Main Lodge on a groomed trail. It's a gradual uphill but still fairly easy and family friendly.
The Panorama dome is another fairly easy hike with a gorgeous payoff view. Beginning at the Lake Mary Road winter closure, walk along the road until reaching the Old Mammoth Road, turning left. The hike is about 1.6 miles and can be done as a loop.
Those were the two hikes that I picked for my visit, but there are almost limitless opportunities in the area that you can choose from based on your skill level and desire to sweat. If you're new to snowshoeing, keep in mind that it always takes longer than hiking, and takes a bit more energy, too.
10. Convict Lake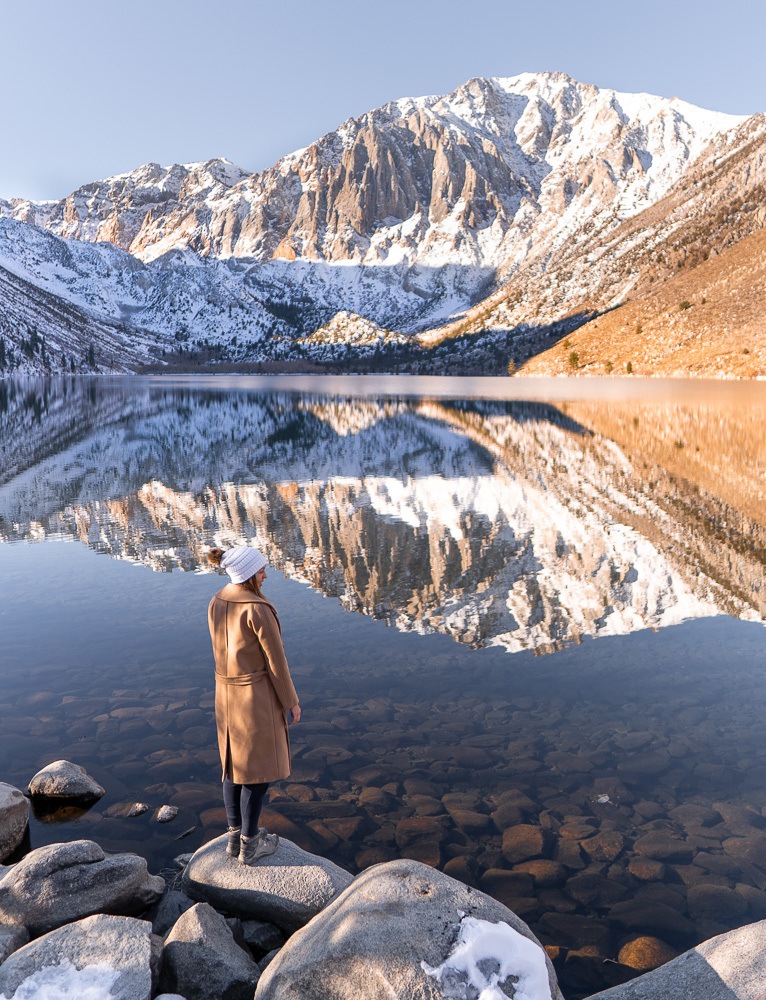 There are so many lakes in Mammoth — it gets the name Mammoth Lakes for a reason — but Convict is one of my favorites for that beautiful reflection. I personally love it early in the morning, particularly for the sunrise as it illuminates the mountains, but you can enjoy it for the sunset as well.
The road in is usually kept plowed, but you won't be able to drive all the way around the lake. But you can snowshoe it if you're keen! I also chose to stay at the Convict Lake Resort when I visited. It's delightfully far from the hustle and bustle of Mammoth Lakes and the cabins are nice! It's also much closer to the hot springs and Hot Creek (#8 on this list).
June lake, Grant Lake, Crowley Lake, and Twin Lakes are lovely in the winter, too. Keep an eye on road closures as they're not always entirely accessible.
9. Snowcat at Sunset or Under the Full Moon
Just because you're not skiing doesn't mean you can't enjoy the mountain tops! If you've never ridden in a snow cat before, they are the machines used to groom the slopes in the evenings and they can be a joy to ride in. On Mammoth Mountain, you can take them up for a sunset dinner, or a full moon experience.
Each snowcat holds 12 people and the tours typically last for two hours. Adults are $120 and children are $75. Book it here.
8. Hot Creek Geological Site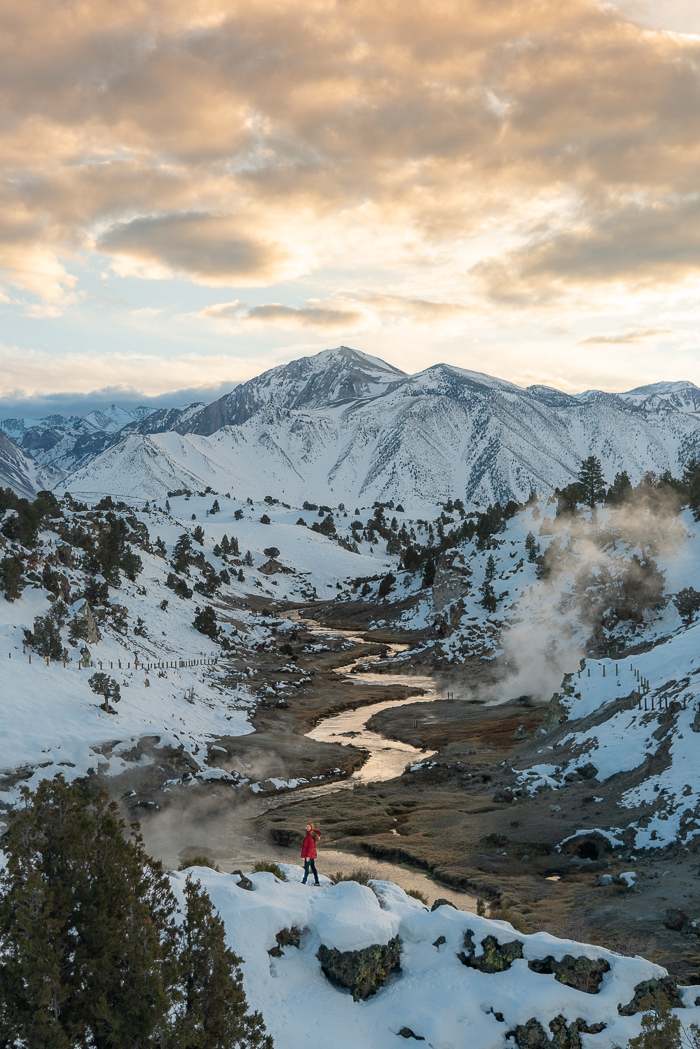 Ever since seeing a photograph of the Hot Creek Geological Site for the first time, I knew that I wanted to see it covered in snow, in its full glory.
Hot Creek Geological Site features bubbling natural springs through a canyon that you can hike down to, and/or enjoy from the cliffs up above. Be extra careful hiking down in the winter months. Snowshoes or at least spikes are recommended.
Although it's normally possible to drive right up to the parking lot with the viewpoints, in the winter you will have to hike a mile and a half each way along the dirt road, which will be covered in snow. I used snow shoes but it was long enough and packed down enough after the most recent snow that I probably could've gotten away with just boots. By the way, it may be temping to take a 4WD truck down the snowy road, but don't do it. I saw a truck stuck in the snow that had to be pulled out.
Keep in mind this water is way too hot to soak in, but it's not far from the aforementioned hot springs. Although the sunrise would provide stunning alpenglow on the mountains, I settled for sunset and had a lovely show as well.
7. Snowmobile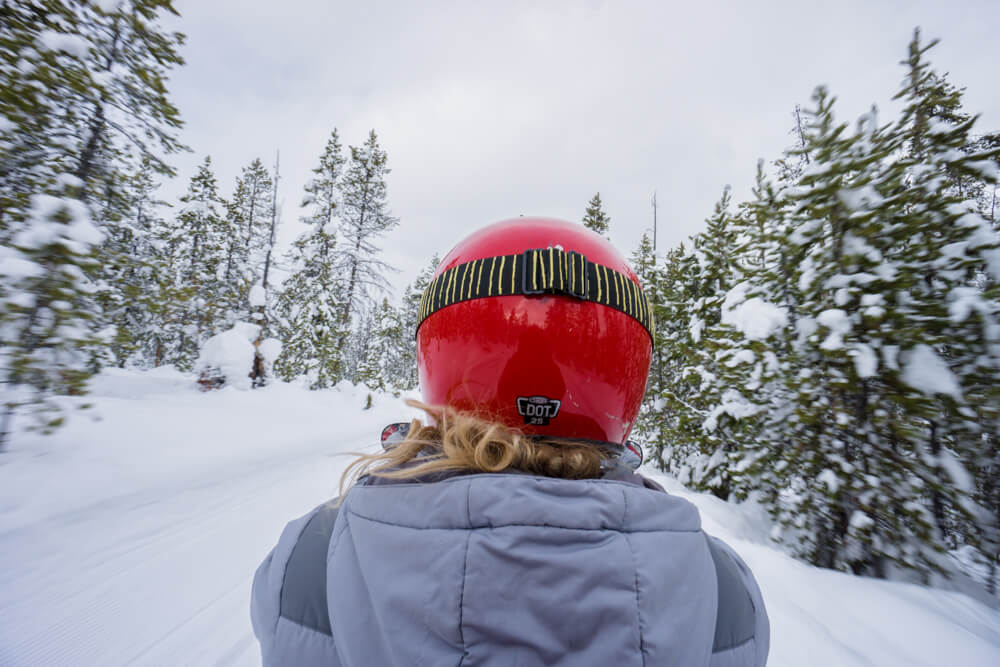 Feeling the need for speed? Consider renting a snowmobile or taking a snowmobile tour. DJ's Snowmobile Adventures before town, and Snowmobile Adventures in Mammoth Lakes are both highly-rated experiences offering tours. For your own rental check out Sierra Engines. The reviews are mixed, but reading the owner's responses to the 1-stars are, at the very least, entertaining.
6. Sled
If you have kids with you, or if you're a big kid like I am, why not go sledding? If you have your own sled or saucer, Shady Rest park along with a few other stops along the scenic Mammoth Scenic Loop are great places to check out.
If you need to rent, head to Woolly's Tube Park and Snow Play in town to snow tube as well as sled. Advanced booking is recommended as this is a popular activity. See section #4 below for night sledding info.
5. Ride the Gondola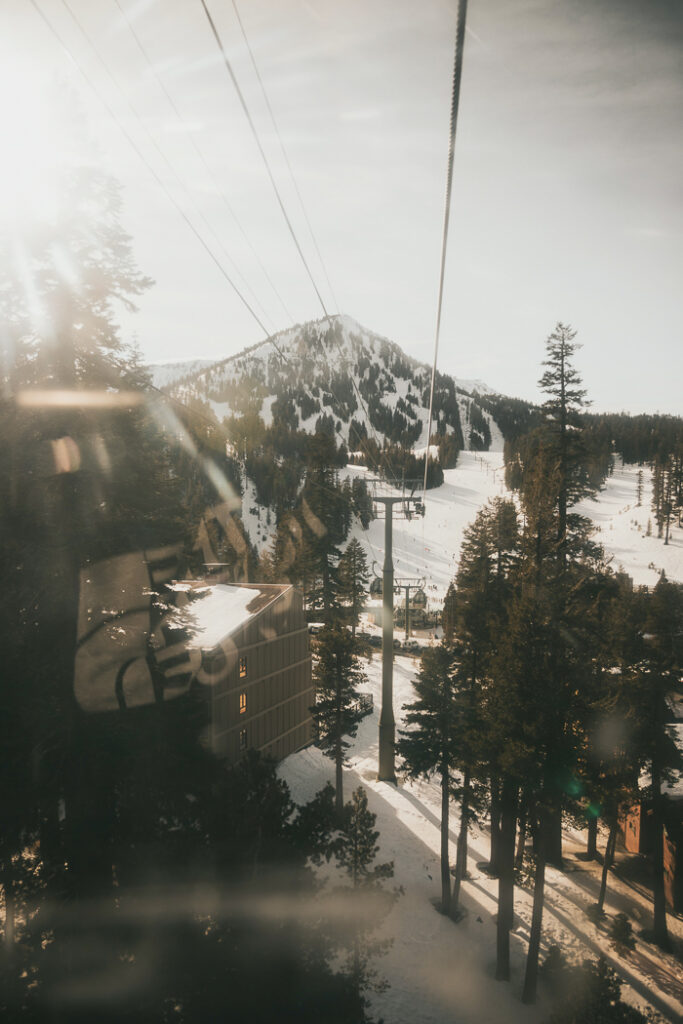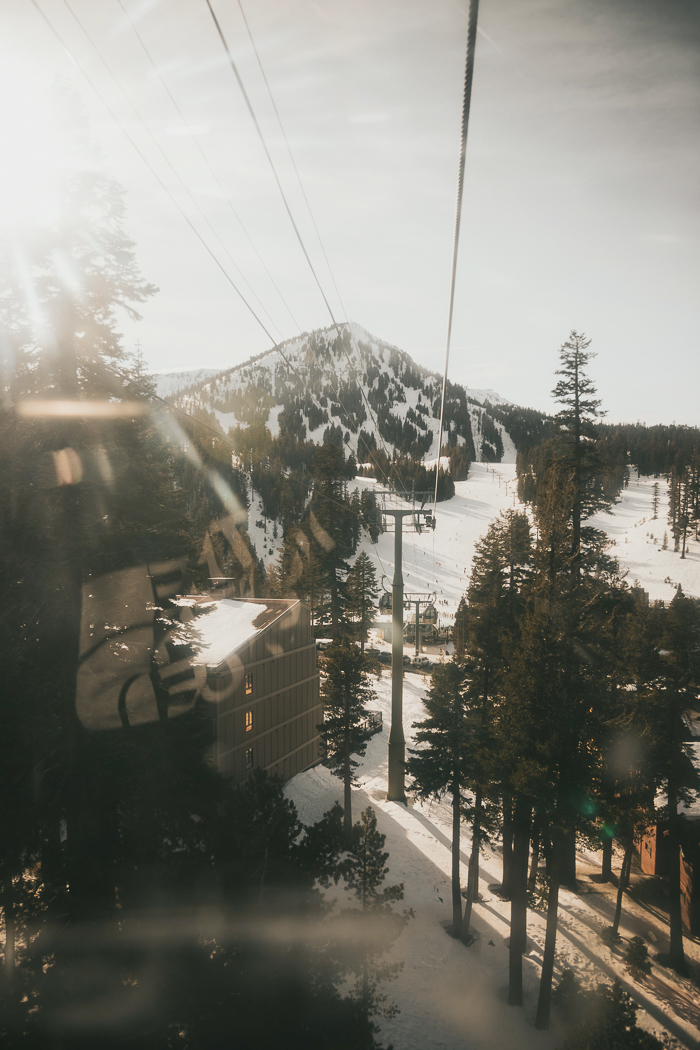 Looking for an easy way to get an amazing view? The gondola up Mammoth Mountain provides stunning views without having to break a sweat. There's a café at the top along with an interpretive center. Look for the Panorama Gondola building across from the main lodge. The roundtrip ride costs $33 and runs from 8:30am to 3:30pm, with the last ride at 3:15 operating only as a scenic ride (no exiting the gondola).
4. Apres-Ski
You don't have to ski to enjoy the apre-ski party. Check out the Village at Mammoth where you'll find the popular Mammoth Brewing Company, The Lakefront at the Tamarack Lodge, the Yodler across from the main lodge, or try tubing or surf sledding after dark with light sticks at Woolly's Tube Park.
3. Catch a Sunrise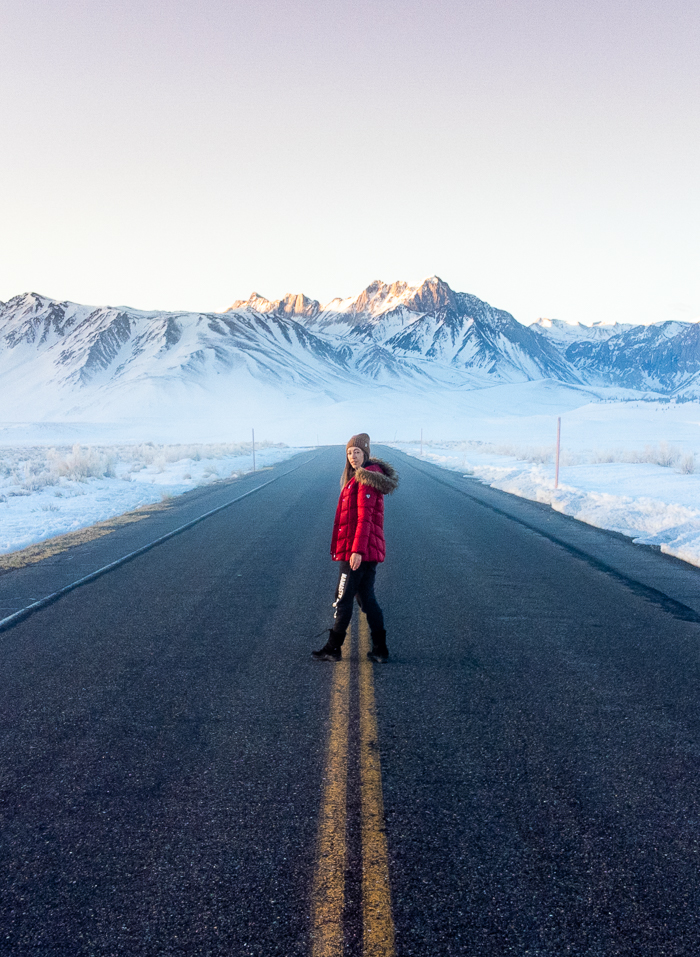 Let's be honest, it will be well below freezing and you'll have to psych yourself out to resist the seductive snooze button, but if you're already planning on waking up early to beat the crowds to any of the hot springs, I highly recommend continuing a bit beyond where you would park for the springs on the Benton Crossing Road to catch sunrise. You're likely to see some low hanging fog as the sunrise illuminates the beautiful Sierras, creating a photographer's dream scene.
This road will have cars going up and down, so be on the lookout and don't plan to have a tripod in the road. I captured this selfie with a drone.
2. Fly Fishing
I admit I am not a fisherwoman, but when I checked in at the Convict Lake Resort, the girl at the front desk asked me if I was in the area to go fishing. Apparently the winter time is a great time to go fly fishing, and you can catch trout all throughout the area. The Sierra Drifters offer tours on the Owen's River near the hot springs and Hot Creek.
1. Mono Lake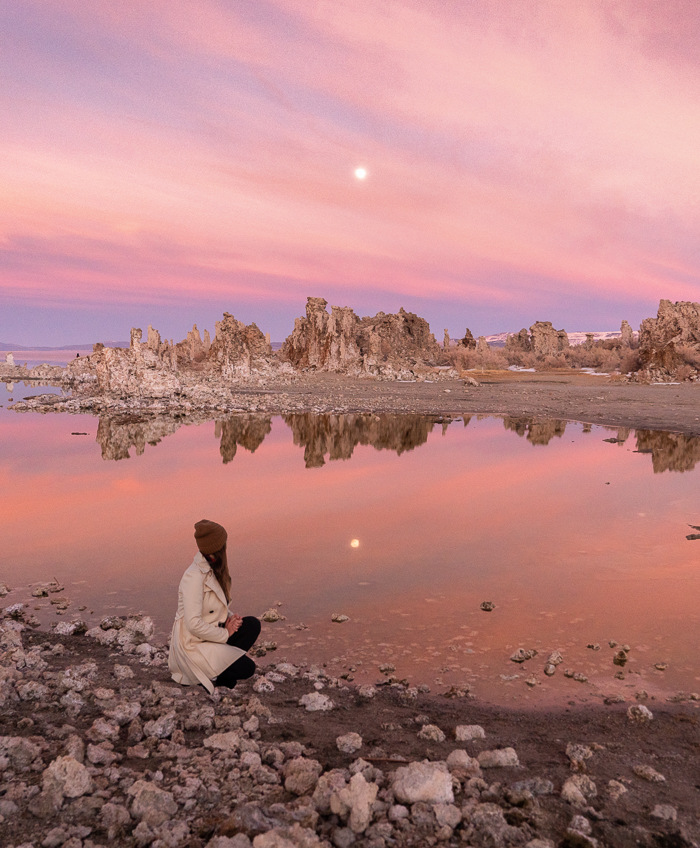 This is, I suppose, more of an honorable mention since it is about a 30-minute drive from Mammoth Lakes, but if it's non-windy day I recommend hightailing it out there for the sunset. While the other lakes may freeze, Mono Lake does not. It's saltier than the sea and the limestone tufas rising out of the water and along the banks make for a unique landscape you won't find elsewhere.
My favorite part is the South Tufa area, pictured above with a stunning sunset and moonrise. Although Google maps showed the 120 as closed, it was actually plowed beyond the South Tufa turn off, so if it's been a while since the last snow, this area may still be accessible in the winter regardless of what Caltrans says. It's possible you'll have to hike in from the tar road about a mile and a half, but the snow had melted enough by the time I visited to make it all the way to the parking lot. Otherwise, the visitor's center parking on the west side is much more accessible.
Pin me for later: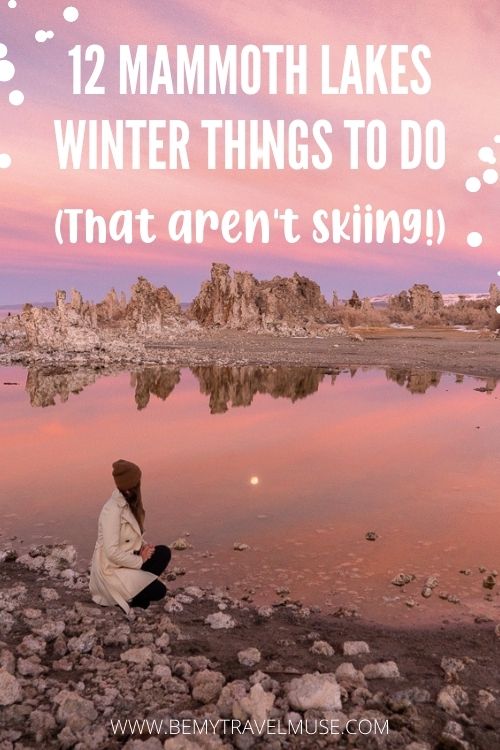 If you're going to be road tripping along the 395 freeway beyond Mammoth or to get to the Mammoth area and have some time, definitely check out the Alabama Hills down south and/or the many stops along this magical freeway, which has become my favorite in California (yes, even more than PCH!).
*Some links in this post are affiliate links for products and services we personally use and love. Any purchase you make through them supports us at no extra cost to you. Thanks so much!