What's it like in Italy in October? Is October a good time to go to Italy? Why should you visit Italy in October?
Many people might tell you that September and May are the best times to visit Italy. And sure, it may be a great time to visit.
It can't be denied that it's sunny, and the weather is warm, not as harsh as the summer. The crowds are not as bad as in June, July, and August… it's still busy but not as busy.
But in October, it's even better!
Here's why it pays to go in October: it's magical. With the changing of the leaves of fall, the air is crisp, and it's the perfect time for wine-tasting and foodie experiences.
Truffle season, chestnuts, and mushrooms are all special treats that come around this time of year. October is the perfect time to explore Italy's food and wine culture.
We have traveled to Italy in October many times now, and it has been an ideal time of year to visit. The crowds are not as intense, the weather is still lovely in most parts of the country without being too hot, and the scenery is stunning as the leaves start to color.
If you love the fall season, wait till you experience fall in Italy.
Yes, there could be a chance of rain, but it's not a deal breaker. Rain comes in short spurts and only adds to the magic of fall.
Disclosure: This post may contain affiliate links. If you decide to make a purchase from one of those links, we may get a commission at no extra cost to you. We appreciate your support.
Italy in October is our favorite time to visit. And we want to encourage you to visit Italy in October and see why it's the perfect month to visit.
In this article, we provide eight convincing reasons to visit Italy in October. Once you experience fall in Italy, it will become your go-to time to vacation in Italy.
Why Visit Italy in October
What season is Italy in October?
Italy is in the fall season in October. The weather is cooling off from the heat of summer, with temperatures usually ranging between 50-80 degrees Fahrenheit.
Is October a good time to go to Italy?
October is one of the best times to visit Italy. The top 3 reasons to visit Italy in October are the milder weather, the crowds are not as overwhelming, and the perfect time to experience Italy's food culture.
Can you go to the beach in Italy in October?
Yes, it is possible to go to the beach in Italy in October. In Southern Italy, the weather and water are still warm enough for swimming and enjoying outdoor activities.
Here is our complete list of reasons you should visit Italy in October and experience fall in Italy.
1. The Weather is Ideal for Exploring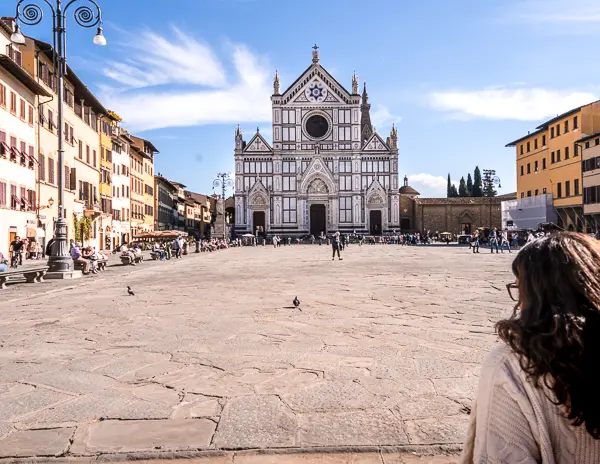 October is one of the most beautiful times to visit Italy. The weather in Italy is still pleasant. You don't have to deal with the intense heat of summer, but it's not cool enough that you need a heavy coat.
On our last trip in October, we were in Parma, Modena, Bologna, and Tuscany; the days felt like warm Spring days. Early mornings and late nights, it cooled down enough for a thick sweater or a jacket. It rained on our first night.
Tip: Pack layering pieces when packing for Italy in October.
After reading about the intense heat wave in the summer of 2022, people hid in their hotel rooms during the peak of the afternoons before going back out to explore. That's valuable time spent inside a room instead of enjoying the little time you have enjoying Italy!
Of course, if you have the entire summer in Italy, you can take it slow. Most of us travel on borrowed time from work and have a limited number of days on vacation. If you visit in October, you'll experience the best of Italy without it being too hot.
The weather will also depend on where you're traveling to in Italy. If you go north, the temperatures will cool down, and if you go south, it will be warmer.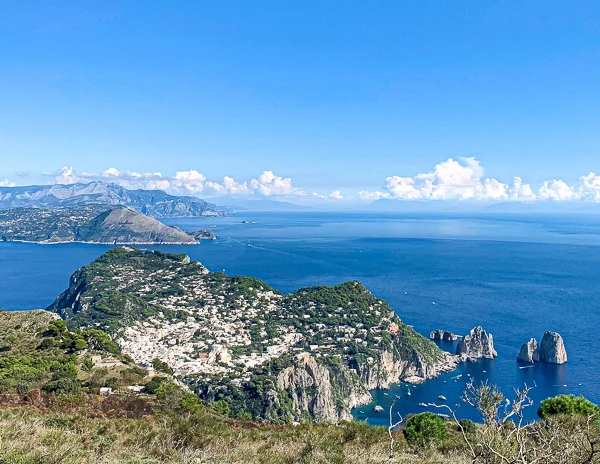 We've also traveled to Rome, the Amalfi Coast, and Capri in October, and it's such a beautiful time of year with cool mornings and evenings but hot summer days. The clear blue sea is still warm enough to swim in it as we witnessed people jumping off boats off the coast of Capri.
But don't expect beach clubs to be open, which is a downside. However, that shouldn't stop you from taking a swim from the shorelines. All you need to bring with you is a beach towel.
You can pack lighter clothing with a jacket option for nighttime.
Rain is also common in October, but it doesn't last too long. It's usually short and rarely ruins the day.
Average October 2022 Temperatures in Italy
| City | High Temp º | Low Temp º |
| --- | --- | --- |
| Rome, Italy | 75º | 59º |
| Florence, Italy | 76º | 54º |
| Venice, Italy | 70º | 52º |
| Naples, Italy | 75º | 59º |
The temperatures above are shown in Fahrenheit. You can visit Wunderground.com to research historic temperatures for the cities you plan to visit in Italy.
2. Crowds are Less Intense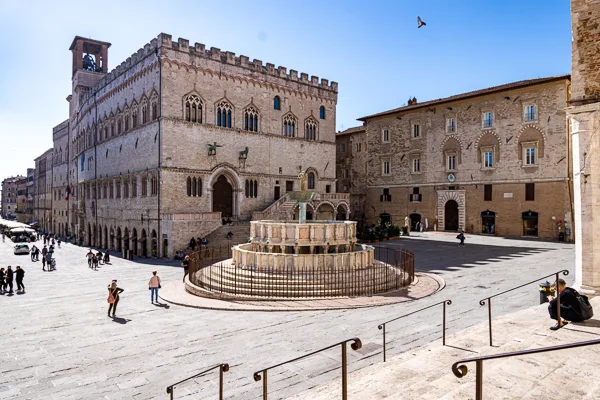 If there is one reason alone to visit Italy in October is the fact that the height of the tourist season is winding down.
The influx of tourists can be chaotic in the late spring and summer; it's when most people travel to Europe. It will still be quite busy in some of the main cities, such as Rome and Florence, but it's nothing compared to the Summer months. So if you're not much into crowds, you'll want to avoid the summertime rush.
It's the ideal time to explore Italy. It's more relaxed in October.
Even the most famous attractions are a tad easier to navigate and enjoy without feeling overwhelmed. You're not rubbing shoulders with a million other tourists.
In the off-shoulder season, students are back in school, so it's quieter in the streets. Adults that are parents are not vacationing this time of year because their kids are in school unless they are traveling without them.
You'll find it easier to book restaurants, visit attractions, and it's more likely that you'll find hotel rooms available. Although, you should always book these in advance when planning your trip to Italy.
Things to do in Florence, Italy
Looking for the best things to do in Florence, Italy? We've got your back. Visit attractions like The Duomo and Ponte Vecchio. From eating gelato at every opportunity. Read all the things you should not miss when traveling to the beautiful city of Florence.
3. Seasonal Foods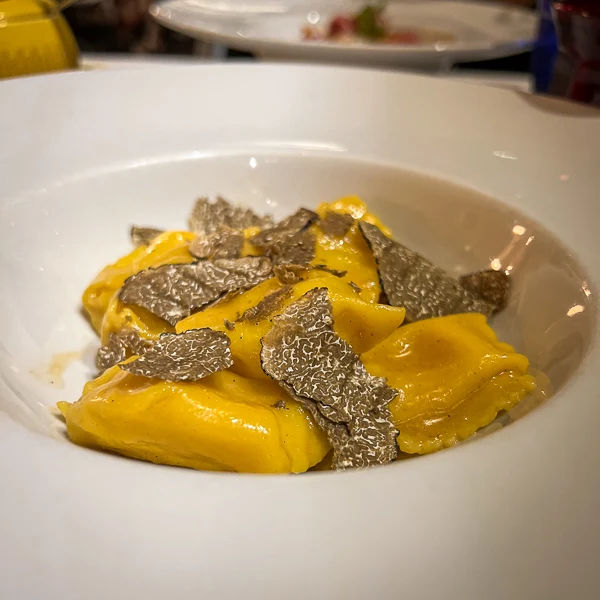 The change in season from summer to fall in Italy comes with the harvest of fresh foods with it. The seasonal fruits, vegetables, and products highlight any trip to Italy in October. You'll find menu specials featuring mushrooms, truffles, squash, and vegetables during this time.
The food isn't just fresh, but it's also seasonal. Italians cook with what is in season. It's one of the best ways to experience Italian cuisine.
Exploring markets and local stores in Italy is exciting and even more exciting during harvest season.
Grapes are harvested from September into October
Truffles season begins! You can experience a truffle hunt.
Porcini mushrooms are almost available on every dinner menu.
Chestnut season starts. (We had the most fantastic pasta dish with chestnuts in Bologna.)
The olive season and harvests begin in late October.
It's also the start of hunting season for Wild Boar.
It varies from region to region, and it's the perfect time to sample the regional cuisines of Italy. We recommend booking a food tour or a cooking class during your visit to Italy.
4. Fall in Italy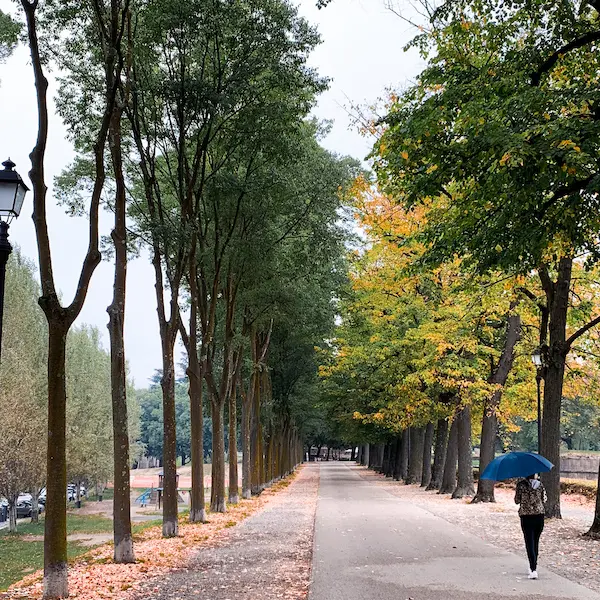 The leaves change color in October, making for some incredible scenery. As someone from Los Angeles, which can be lackluster, seeing autumn colors while visiting fall in Italy is a treat.
You can witness the change in season and the beautiful fall colors depending on where you are in Italy. This is especially true in the country's northern parts, where it starts to cool down faster.
The changing of the seasons brings a unique charm to Italy. It's a great time to walk around and admire the fall leaves.
On this last trip, we walked in a park in Parma surrounded by chestnut trees with burnt orange leaves and chestnuts crunching underneath our feet. We were mesmerized by the chestnuts on the ground.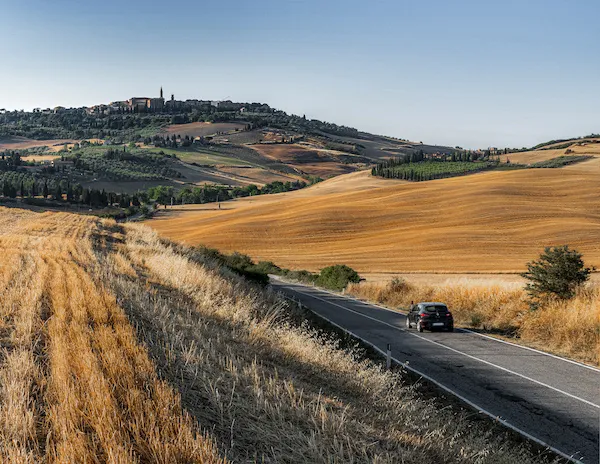 In Italy, it's not just the leaves that you'll find picturesque. Tuscany is one of the best places to be in October. The rolling hills turn into golden hues that are incredibly beautiful.
So if you love autumn and the change in season, visiting Fall in Italy should be one of the reasons you visit Italy.
5. Prices are More Reasonable
October is when the off-season starts in Italy, and you'll begin to see the prices drop. You'll find lower prices on flights, hotels, and vacation rentals.
You may find discounts for certain activities, such as tours, train, and ferry tickets. It all depends on where you're traveling to in Italy. Because if you decide to travel to a busy city like Rome, it may be less of a discount.
The most significant savings will be accommodations and flights, making it easier for you to save money and keep your dream trip to Italy on a budget. You start comparing prices during the busy Summer season to October dates, and you'll see a huge difference. You can use the money you save to do other activities in Italy.
As you start researching tours, you'll also notice that sometimes bookings are more expensive during busy seasons. The higher the demand, the less space on tours and the more it costs. In October, it's the opposite. You'll find more availability on tours, and you may even be able to book it discounted.
We like to book our accommodations on Booking.com, Vrbo, or Airbnb.
6. October Festivals in Italy
In October, there are all sorts of fun festivals throughout Italy. If you plan your trip around it, it can be a memorable experience.
There are festivals in Italy all year round, but in October, there are specific ones to the season.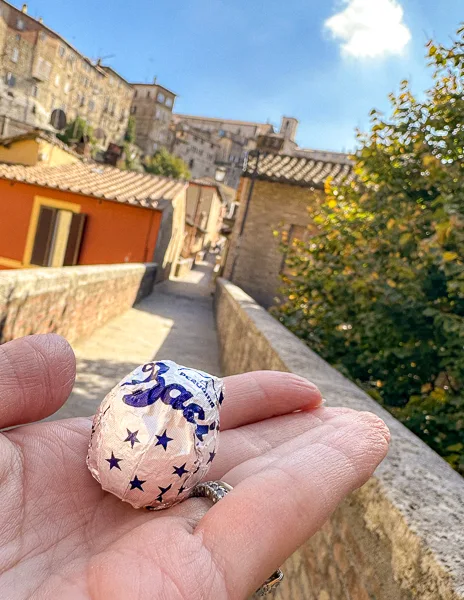 October Events and Festivals in Italy
White Truffle Fair in Alba, Piedmont, Italy, starts in October and runs through to December.
Festa della Castagna (Chestnut Festival) takes place in October throughout different parts of Italy.
Chocolate Festival, Eurochocolate, in Perugia, where the iconic Bacci chocolates are from.
Verdi Festival in Parma, Italy, consists of operas and concerts celebrating Giuseppe Verdi.
Grape Festival in Marino, Italy, is the perfect day trip from Rome if you're around the first Sunday of October.
If you do decide to plan your travels to Italy around one of the festivals, make sure to book accommodations and activities in advance.
Or you're looking to escape the crowds, and knowing where and when these festivals are taking place helps you plan where not to go.
7. Wine Tours
If you're a lover of wine, October is the perfect time to go on a wine tour in Italy. The harvest has already happened, and it's time to sample some of the delicious wines that Italy is famous for.
October is also a great time to visit wineries because it's the end of their production season. The wineries are not as busy, so booking tours and tastings are more accessible.
8. Cruise to Italy in October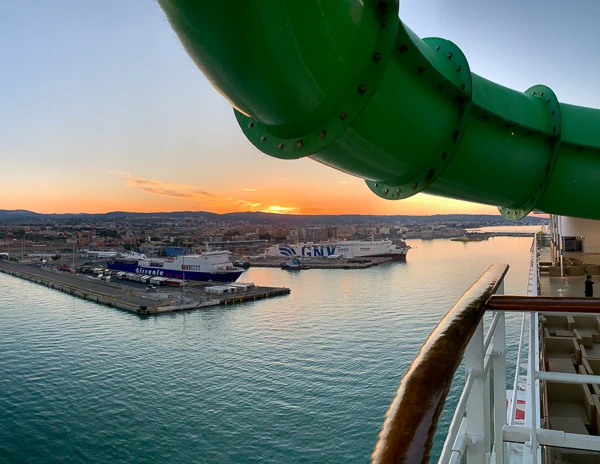 Cruises to Italy are winding down in October. For some of the reasons listed above, it's an excellent cruise time.
The prices will be lower, making it easier for you to enjoy the luxuries of a cruise.
The summer cruising rush is over, so exploring the cities and attractions will be easier without being too crowded.
The weather is still ideal for navigating the Mediterranean Sea, and it's not too cold or hot.
Plus, it's a great way to explore different cities in Italy within one trip. And you don't have to visit the big cities mentioned on the itineraries. You can get creative and plan day trips to smaller cities near the port destinations.
For example, we've planned the following during our first Western Mediterranean cruise in October:
The options are endless when you start looking at a map. You can either rent a car from the cruise terminal or see the next closest city you can visit via train.
An October cruise itinerary will be perfect if you're looking to take a Mediterranean cruise with port-of-calls to Italy.
Read more: How to Plan a Cruise Vacation
What to Eat in the Fall in Italy
As we mentioned, the seasonal foods in October and the fall in Italy are something to look forward to on your Tasty Itinerary.
Every region of Italy will have its own specialty dishes and will cook with what's in season in the area. You'll want to look out for these ingredients at local restaurants and markets.
Always ask your waiter, what's in season. They'll be happy to point you in the right direction.
Some examples of seasonal Italian delicacies you should be on the lookout for in the fall are:
truffles
chestnuts
escarole
radicchio
beans
bitter greens
pumpkin
fresh porcini mushrooms
wild boar (chingale)
For example…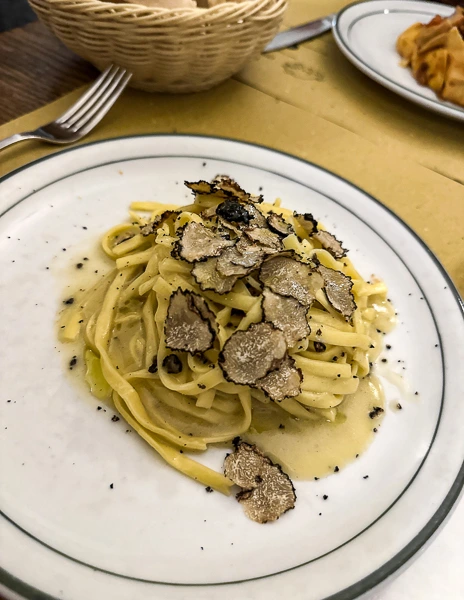 There are many foods in Tuscany you should eat in the fall, like Truffle Tagliolini, ribollita, and pappardelle chingale.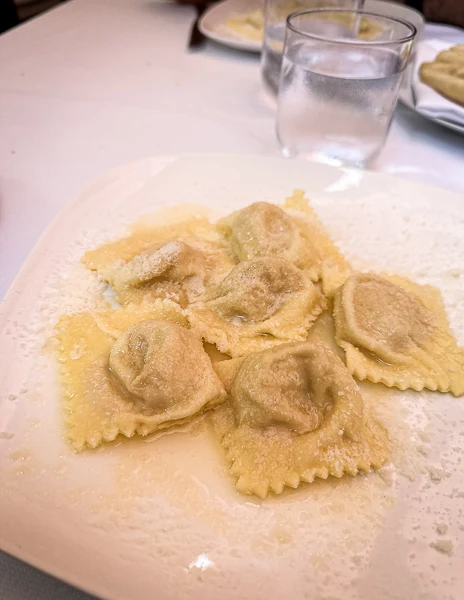 If you're in Emilia Romagna in the fall, try Tortelli di Zucca, which is like a ravioli with pumpkin. While you'll find this dish throughout other parts of Italy, in cities like Bologna and Parma, it's some of the best Tortelli you'll ever have.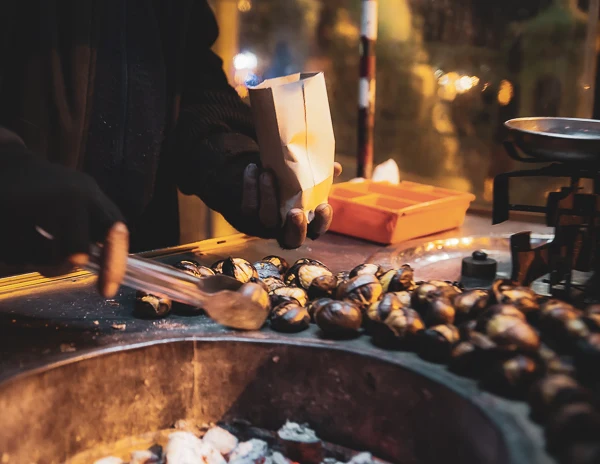 Eat roasted chestnuts in Rome, one of the popular street foods in the city during this time of year. And order the whole fried artichoke if you see it on the restaurant menu.
Pizza in Naples is a year-round must even when visiting in the fall.
Don't forget to share the love on Pinterest: